The Big Bend Filipino-American Association, Inc. is a 501(3)c registered non-profit organization.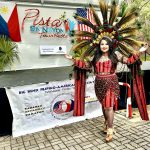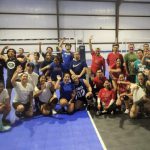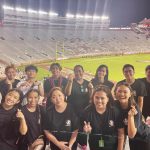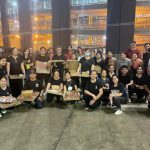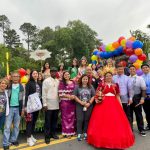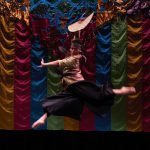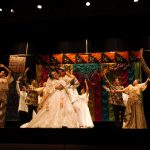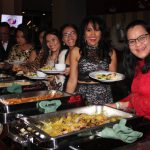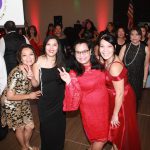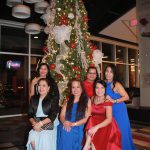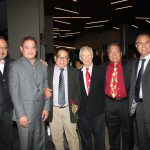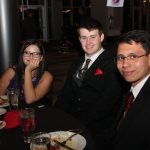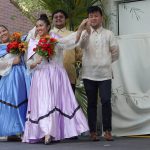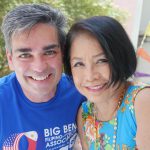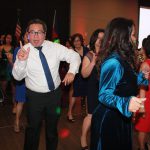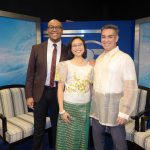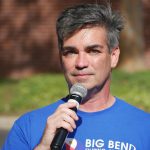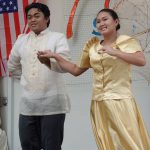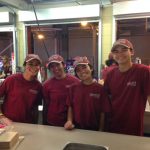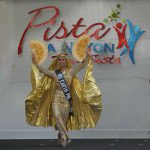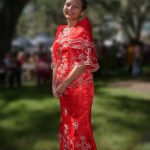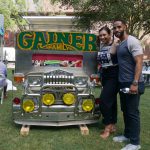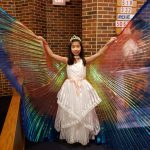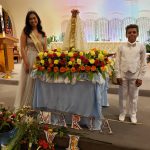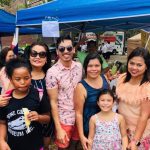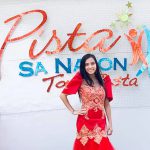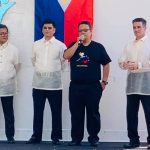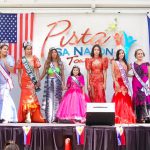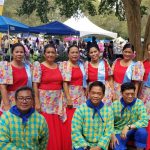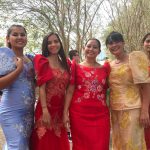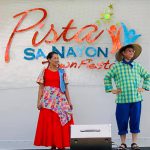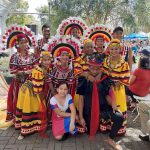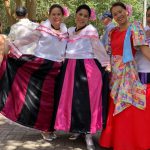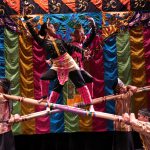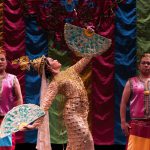 ELECTION NEWS!
You have the power to vote and select the next BBFAA Executive Leadership!
BBFAA 2023 Election Ballots have been mailed out!!!  Make sure your voice is heard as the success of BBFAA depends on your votes.
Due to unforeseen delays in the mail delivery system, we have extended the dates for returning the ballots and have rescheduled the Election Day.
We would like all BBFAA members to promptly vote and return your ballots before the postmarked deadline: Thursday, November 16.  Please allow 3 to 4 mailing days for the ballot to physically arrive on time to ensure your votes are counted on Election Day: Tuesday, November 21st.
All BBFAA Members and candidates are invited to witness the Election Committee open ballots and count the votes. Location: Panda Buffet, 3507 Thomasville Road (next to Popeye's). The Election Committee will announce the winning candidates on Election Day, BBFAA Facebook Live, the email listserv, and the BBFAA website.
Thank you for your participation!
Kind Regards,
The BBFAA Elections Committee
Mark your Calendars:
Saturday, October 14: Mail your BBFAA Nomination Forms
Wednesday, October 25: Decision Day from Candidates. Please tell us if you're running for Officer/Board Member.
Saturday, November 4: Ballots are mailed.
Saturday, November 4: Meet the Candidates at Pista sa Nayon, Filipino Festival.
Thursday, November 16: Ballots must be mailed and postmarked by this date. Please mail your ballots ASAP to ensure your votes arrive on time to be counted on Election Day. They should be postmarked on this date.
Tuesday, November 21: Election Day at Location at Panda Buffet, 3507 Thomasville Road (near Popeye's) from 5:30 p.m. to 8:30 p.m.

Council of Cultural Arts Grant
BBFAA has been approved to receive $1260 in Cultural Grant and $360 Marketing Grant for FY24 in COCA Grants. The Cultural Grant (City Grant) has not been finalized in which BBFAA requested $10K. We will hear more information soon as we have just submitted the FY2023 Final Grant Report.

Pista sa Nayon – Filipino Festival
Get ready for the Annual 2023 Pista sa Nayon – Filipino Festival this year on Saturday, November 4 from 10 a.m. to 4:30 p.m. We are currently looking for Vendors and asking Sponsors to support our event. This cultural festival is sponsored by COCA grant and the City of Tallahassee. Our major sponsors include HCA Healthcare and Tallahassee Memorial Hospital.
December
Event: BBFAA Annual Christmas Party
Date/Time: Saturday, December 9, 6 p.m. to 10:30 p.m.
Location: DoubleTree, 101 South Adams Street
Cost: Member Adult – $35; Nonmember Adult – $45, Member Child (younger than 12 years old) – $10, Nonmember Child (younger than 12 years old) – $15.
Details: At this time, the BBFAA Christmas Party is now FULLY RESERVED, and we have reached the 160 capacity limit for reservations, so we are no longer taking reservations for the Christmas party. We apologize for any inconvenience this may have caused. Please contact Lally Mosley (phone: 850-766-0281) or Elvie Edens (phone: 850-491-768. 7) if you have any questions. This is a buffet dinner. Parking downtown is limited. so please allow yourself enough time to find parking and walk to the DoubleTree Hotel.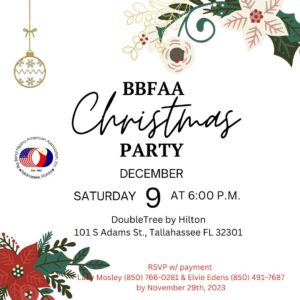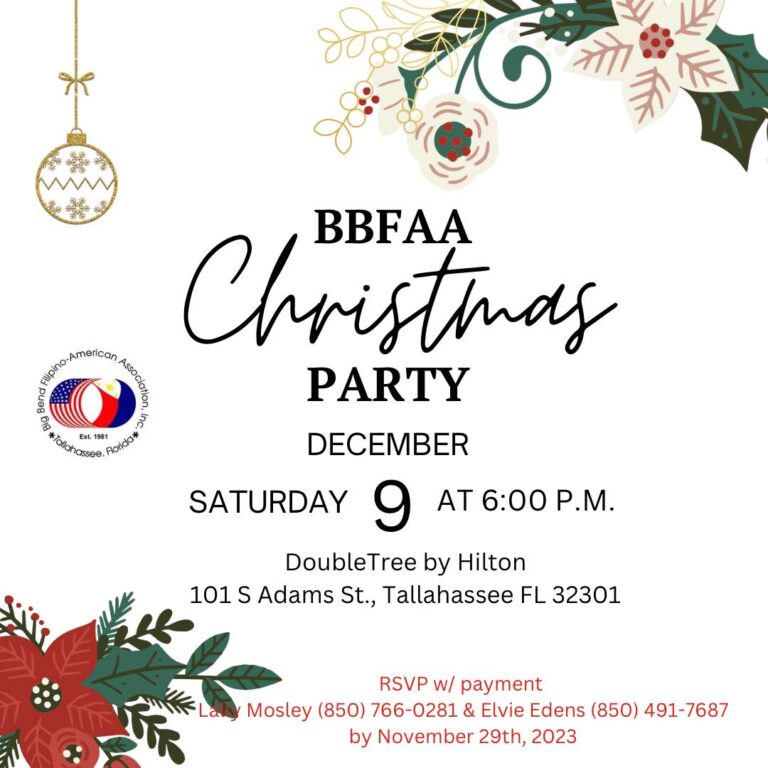 Ongoing Event
Event: New BBFAA choir
BBFAA Choir Co-Leads: Michelle Riley and Barbara Reyes
Location: St. Louis Catholic Church, Tallahassee, Florida
Details: Volunteers are needed for the Tagalog Choir to support the Tagalog Mass. The choir will have scheduled practices. Please RSVP to Vice President Michelle Riley if you are interested. Please come to practice as we would love to hear your voices
BBFAA Leadership 2021 - 2023
BBFAA Executive Council
Dec 2021 – Dec 2023
Officers
President Sonny Abad
Vice President Michelle Riley
Secretary Nelly Guarda
Treasurer Elvie Edens
Auditor Dinah Johnson
Public Relations Officer Clarisse Grise
Board of Directors
Chairman of the Board Mafe Brooks
Vice Chair Board Member Ed Acoff
Board Member Romeo Aggabao (Past President)
Board Member Earl Campos (Past President)
Board Member Lally Mosley
Board Member Alice Cruz
Board Member Jun Agbunag
BBFAA Members are welcome to attend the Executive Meeting held each month. Location TBA. Contact any Officer/Board member for more information.
BBFAA US Educational Grant $500
The BBFAA Volunteer Student Service Award is currently active for the Fall Football Season. High school seniors and college students, who volunteer the most hours at the FSU Concession Stands, will be awarded a $500 US Educational Grant. Please contact Lally Mosley to volunteer at phone: 850-766-0281.
Congratulations to our first recipient of the 2022 BBFAA $500.00 U.S. Volunteer Student Service Award!
Jason Munoz
Jason Munoz received this award for volunteering the most hours at the FSU concession stands in 2022. BBFAA is thankful for his service.
Congratulations to the 2023 recipients of the BBFAA $500.00 U.S. Educational Grant!
Essay Contest Winners:
Christopher "Justin" Salvador (Winning Essay)
Marc Guarda
Zoe Brammer
Anton Abad
TikTok Video Winner:
Rafael Guarda
@rmcguarda My TikTok entry for the 2023-2024 Pilar Hinchcliffe Educational Grant. In this video, I will try to educate you on the traits, values, and culture of the Philippines with a comedic twist. Through performing arts and skits demonstrated throughout this video, I hope I can exemplify one very good Filipino trait, and that is spreading humor and positivity. Through comedy I hope to show you that education is POWER and that we treasure our familial relationships. #BBFAA2023 ♬ original sound – rmcguarda
Chair: Mrs. Dinah Johnson, Ed.S., MPA, email: djohnson3333@comcast.net
Co-Chair: Virginia Cardenas, DNP, FNP, APRN-C, PMHNP-BC, Doctor of Nursing Practice
BBFAA FSU Volunteer Concession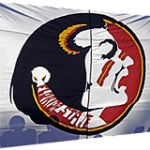 Sign up to be a BBFAA Concession Stand Volunteer
High school students can earn volunteer hours for their Bright Futures Scholarships All games listed below are Home games in Tallahassee, Florida at Doak Campbell Stadium.
All volunteers must be over the age of 18 years and take a 2 hour training.
Please meet 4 hours before kickoff. Transportation at Olive Garden.
Dress code: Black or khaki pants/long shorts. No jeans or leggings. Non-skid shoes with covered toes and clear bag policy.
Contact: Lally Mosley, phone: 850-766-0281
Click on the logo below to sign up as a volunteer
 2023 FSU Football Schedule
All games listed below are Home games in Tallahassee, Florida
| | |
| --- | --- |
| Date | Opponent |
| Saturday, September 9 | FSU v. Southern Miss Golden Eagles |
| Saturday, October 7 | FSU v. Virginia Tech Hokies |
| Saturday, October 14 | FSU v. Syracuse Orange |
| Saturday, October 21 | FSU v. Wake Forest Demon Deacons |
| Saturday, November 11 | FSU v. Miami Hurricanes |
| Saturday, November 18 | FSU v. North Alabama Lions |
Add Your Heading Text Here